BONNERS FERRY — The Kootenai Tribe of Idaho's casino and hotel, the Best Western Plus Kootenai River Inn Casino and Spa, has upgraded its amenities and added new gaming machines.
The project includes 105 new games and a new layout in the casino, as well as new interior work throughout the facility, a new high-tech air purification system and brand-new HDTVs in all guest rooms.
"The idea is to continue to respond to what our guests are looking for in a destination casino experience," said Tom Turpin, general manager.
The new machines will be displayed in mini-banks of six to eight in a design that casino guests find appealing, Turpin said.
The machines include the most popular games of 2014, including Beverly Hillbillies, KISS, PLINKO, Mega Meltdown and a Million-Dollar Jackpot Progressive.
"Our guests always love seeing the latest game titles," Turpin said.
"We've also been giving away a number of interesting prizes in the casino, including Yamaha UTVs, Harris pontoon boats and a riding lawnmower."
The new air purification system completely eliminates tobacco smoke and odor, according to the manufacturer, Casino Air. The system uses activated oxygen created by molecular oxidizers, and eliminates all other microorganisms at the same time.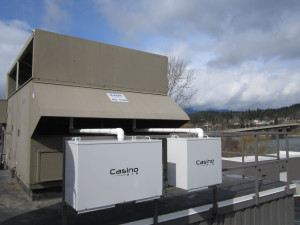 "It makes an immediate difference as soon as you walk through our doors," Turpin said. "We welcome people to come experience the new clean air feel and smell."
According to Turpin, room bookings have exceeded expectations with the new wing of 36 rooms in the Kootenai Falls Lodge, which opened one year ago. "It's been a phenomenal response," he said.
The Best Western Plus Kootenai River Inn Casino and Spa is located at 7169 Plaza Street in Bonners Ferry, overlooking the Kootenai River.
It features 101 guest rooms, most with riverfront views, private balconies, walk-in showers, refrigerators, microwave ovens, in-room safes, Keurig coffee makers and free Internet access.
Owned by the Kootenai Tribe of Idaho and managed by Hagadone Hospitality Co., the property opened in 1986 and has continued to expand.
It holds the coveted Best Western Champion Design Award for 2013, one of just 12 to receive the designation out of more than 2,400 properties in the U.S. and Canada.
The facility consistently receives the Best Western Director's Award, placing it among the top operations in the hotel group.
"We are certainly proud of this property as the flagship of our Tribal enterprises," said Kootenai Tribe of Idaho Chairman Gary Aitken Jr.
"We continue to look for great new ways to please our guests."
The facility includes more than 500 gaming machines in three casinos, the Springs Restaurant and Lounge, the Kootenai Spa, recreation center and pool, and space for conferences and group business.
"It's our pleasure to partner with the Kootenai Tribe of Idaho in continuing to welcome people to this updated facility," said Jerry Jaeger, president and co-owner of Hagadone Hospitality Co.
The Best Western Kootenai River Inn Casino and Spa draws guests from southern British Columbia, north Idaho, eastern Washington and western Montana, as well as summertime tourist traffic from throughout the nation.
Information: www.kootenairiverinn.com